September Reading List
So, here we go, another rough list of the books I'm going to try and tackle this month for my #52bookyear challenge. I'm going for a healthy balance of self-help and fiction. I'll be travelling about this month both work and personal, and want to try and balance the two a bit in what I'm reading when/where. Best laid plans, right? Again. Type A.
Have you read any of these? I've haven't checked out HBO's The Handmaiden's Tale yet because I'm a book-before-the-movie kinda girl. If your on Goodreads or looking to read more and not sure where to start, check out my profile here I rate and review everything there. It's a great site for readers, be sure to check it out!
But my favourite book from my August list? Had to be Anthony Doerr's All the Light We Cannot See. Less for the story, which was so incredible, but more for the way it was written. Beautifully set over a 50 year span and featuring World War 2 as I've never experienced it before. I'd definitely recommend this to anyone but history buffs for sure. My review on Goodreads can be found at the bottom of this post.
xoxo
Margaret Atwood | The Handmaidens Tale
Gretchin Rubin | The Happiness Project
Simon Sinek | Start With Why
Miranda Hill | Sleeping Funny
Lisa Moore | Caught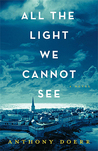 All the Light We Cannot See
by
Anthony Doerr
My rating:
5 of 5 stars
What a great book! I couldn't get over the perspective gifted to us readers by Another Doerr, I never considered the war from a young German soldiers POV before and it was an incredible experience. Found another novel of his whilst reading this one, About Grace, and I'm looking forward to see what magic he creates on those pages. Is it true it took him 10 years to write all the Light We Cannot See?
View all my reviews